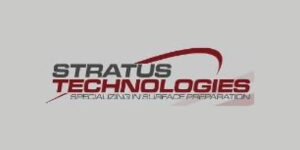 Stratus Technologies
Before joining SurfacePrep in 2017, Stratus Technologies proudly provided finishing equipment, products, and services since 1989.
Stratus combined their years of experience with their constant eyes on the evolving market to ensure that every solution they provided their customers was the right one. Along with distribution, they provided excellent on hands service and technical support to keep their customers up and running for years after that initial purchase. This attitude has carried over into SurfacePrep.
Stratus Technologies became SurfacePrep's Windsor, CT location alongside New England Metal Finishing.